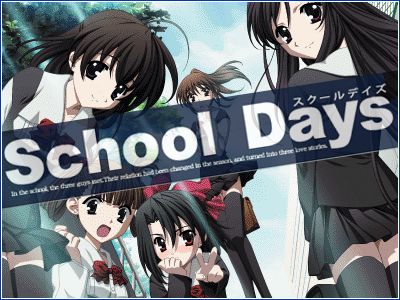 School Days
SPOILER ALERT! Due to the nature of this anime, and the fact it's already so infamous for what it is, I'm not gonna restrain myself from posting spoilers. I'll write everything I see fit to include in a proper analysis of this anime. If you have not seen it yet, and have hopes to watch it in the future, I advise you to not read any further. Everyone else, who's mentally stable enough to leave this anime alone or already overcame it, can read on.
You're still here? Well, so be it. You have been warned.
Abandon all hope - Ye Who Enter Here
With anime based on visual novels, things can go two different ways. First way: the anime is created following the route of a single heroine, sometimes including minor events from other routes to create the 'harem' feeling, then it's purely slice of life, and it either ends with a single main heroine's Good Ending or doesn't end at all. Second way: the anime is created in an experimental way, mixing the routes, creating an original storyline using the universe of the visual novel, things like that; the anime like that can be either successful enough to gain popularity, or so bad that it's either unknown or infamous.
School Days
, as you might have already guessed, is the latter. Now, don't get me wrong - I haven't played the game and neither do I intend to do so, but the setup is so obvious it was easy to spot the producers were mixing the material from various heroines' routes.
Seeing as it has aired back in 2007, I didn't have high expectations regarding the graphics. As much as the quality of the show is rather so-so, studio TNK decided to use the character designs popularized a few years earlier. An unfortunate choice, dictated probably by how the original game looked, turned out to hurt the show rather than helping it. Huge eyes like those aren't exactly easy to animate, and the creators didn't hide it -
every now and then you can see awkwardly-looking characters
(in the foreground, mind you)
, followed by an unstable quality of animation, with the final attraction being occasional faulty frames that weren't properly cleaned
(and honestly, having the few frames per second that it had, it was rather easy to spot). If it's about backgrounds, you don't have much to look for here - they're just your ordinary, simple backgrounds, where the creators didn't even care for the details. The very character designs aren't so bad - I liked the variety of hairstyles and how they tried to create their unique look despite using a known template - but the animation kills it.
Graphics: 17/20
The soundtrack, thankfully, is in a better standing. While the songs used aren't precisely the best in their league - just some ordinary J-pop lovesongs put here and there - the melodies accompanying the series are easy on the ears and can be listened to with ease. Which doesn't, sadly, change the fact that some melodies have been put in awkwardly wrong moments, considering what was happening on the screen. At some points I had to mute the sound completely (god bless subtitles), since I was on the verge of bursting out hysterical laughter.
Seriously - who normal puts the 'ordinary school life' soundtrack in the situation where one girl finds out about another? In the most dramatic way they came up with?
Overall, it wasn't so bad - it's just the placement of the melodies was ridiculous.
Sound: 12/20
Plot. God bless you, readers, for coming this far. You'll regret it in a few minutes or so (depends on your reading speed), since I'm about to drop the nukes in the next few paragraphs. 
The plot of this show revolves around Itou Makoto, a young male student with no experience in dealing with girls. On the first day of his second semester in high school, he gets interested in a girl from another class. Soon enough, he finds out she's taking the same train as he does, and decides to take a photo of her due to some belief going on at the school (apparently, if he gets to keep the photo for a month without anyone noticing, his feelings would be requited). The next day, while he was looking at the photo, his classmate, a girl named Sekai, who he's sitting with, sees the photo and decides to help him out. Soon enough, she gets Makoto and the girl, named Kotonoha, to speak to each other, Makoto confesses, Kotonoha accepts and that's how they get together. Climatic kiss scene, marriage, roll credits... or not so much. Turns out, Sekai has a massive crush on Makoto and is hiding it from him to help his relationship go forward. She often goes overboard in order to make him get used to women, however, which involves using her body. After some time of dating Kotonoha, Makoto gets bored with her and decides to get with Sekai (as it appeared, his main reason for it is that Sekai's easier to get into the bed with him) - without even breaking up with Kotonoha.
Wanna know something cool? That didn't even cover half of the anime. It's a massive rollercoaster of love, sex, betrayal and whatever else you can find in your soap opera. Amplified and served more than once. Drama can be found in every episode, and it doesn't just stop there.
I really want to stop this paragraph here. But I can't. I'm sorry.
From episode 7 onwards, the situations change like you, dear readers, change your pair of socks. Kotonoha gets thrown away, Sekai then starts not being enough for Makoto, who's using every possible opportunity to get it on with another girl. In the end, Sekai gets pregnant, Makoto runs like a coward to Kotonoha who went through a mental breakdown... and after all, desperate as she gets, Sekai murders Makoto, Kotonoha dismembers him and kills Sekai, after that she runs away on her parents' boat with Makoto's head. Good. GOD. I'm pretty sure it was schemed like that from the start so you get a traumatic experience from all of that. The thing is, you don't - it's just plain sick. So sick that after watching it, I woke up with a fever and started throwing up. Really.
Plot: 25/20
Being the visual novel adaptation, the characters all have their unique personalities. However, this anime seems to rely more on the visuals than the personality of said character. The trick is: everybody has a screw or two loose. Itou Makoto, the protagonist, is probably my most hated character of all time. He's dense, bad with women and an overall asshole (in sugar coating, of course, else the girls would hate him instead of offering themselves to him) to this degree, that I couldn't identify with him at all, and trying to find the least bit of empathy for him proved to be fruitless. Kotonoha, once a shy girl getting slowly used to males, turned into obsessive girl with a mental disorder, who gave away her virginity to a guy she spoke two or three times before as her bored boyfriend dumped her, claiming it's nothing and she's still dating Makoto. Sekai, a merry girl with a cheerful attitude, was probably the brightest part of this show. She helped Makoto way out of her boundaries (sometimes forgetting how much she's allowed to do, too), cheered him up, loved him truly, and when all else failed, she put him out of his misery (
sarcasm intensifies
). The rest of the characters... can I just do that, instead?
- Kiyoura - Sekai's best friend, also had a crush on Makoto since he helped her, slept with him before going to France
- Otome - Makoto's middle school friend, had a crush on him since then, confessed and slept with him during school festival
- Hikari - one of the side characters, slept with Makoto (WHY!?), despite allegedly being in love with another guy
- three girls who bullied Kotonoha, slept with Makoto for funsies
- Taisuke, Makoto's friend, whom Hikari allegedly loved, took Kotonoha's virginity since he liked her for her big boobs
Enough? Enough. I'll just make it a 20/20 with a +1 for every character that pissed me off.
Characters: 27/20
Enjoyment? None. I got sick because of this show. Can I have my painkillers now? Thank you very much.
You can therefore now go, live your lives peacefully with the knowledge that this excuse of an anime will not ever displease your brain, so long as you don't watch it. Nothing to lose, really.
Enjoyment: 20/20
Total score: 101/100
Judgement:
BEYOND THE BOUNDARIES
Afterword: I feel sorry for this review. I just can't think properly after this had toasted my brain. I may try to fix it somehow if I'm ever cheered up in the least. For now, I'll just lay it off with a box of painkillers and lots of nightmare fuel.