[block]
Here is the 25th issue of the Lewd News, written by panda and I.
Only panda submitted their news over the past three weeks, so I'll be covering the remainder of it myself.
[/block]
---
[header]gaming
by @"suicid3Panda"
[/header]
[block]Hey Lewders! To make sure I future proof my article in case the news doesn't get posted for 3 weeks, I will tell you about the future -- Virtua Dolls! A recently launched Indiegogo campaign promises an adult controller to work alone or along side of the upcoming VR devices. It's basically a Fleshlight with some additional mechanics to simulate sucking, stroking, and other sexual acts. The device will cost just under $200 and has a rather unbelievable launch date of about 90 days after the crowd fund is successful. As of this moment, the crowd funding page was taken down by the campaign creators to "sort out a few issues." Don't worry, here is the link to the video below:
[/block]
---
[header]anime
by @"Senpai"
[/header]
[block]
IBM is making anime real - ingame footage
So basically, as some of you would already know IBM are making a virtual reality Sword Art Online mmo.
IBM has released a 26 second video of combat footage:
Quote:Those who participate in the demonstration are able to scan their bodies, which are then be rendered as 3D avatars for the demonstration. Users are then able to manipulate their in-game avatar using a variety of hardware, including an Oculus Rift (Developer Kit 2) for head-tracking and VR visuals, Leap Motion and Ovrvision for hand manipulation, a Microsoft Kinect 2 for body movement, and special footwear to detect foot movement. The hardware is labeled "Nervegear Prototype." "Nervegear" is the name of the virtual reality hardware used by the characters in the original Sword Art Online story to interact with the game.
Source
.
I personally can't wait; it's an interesting project and I want to see it succeed.
Fairy Tail Artist and More Support Tokyo Paralympics with Special Illustrations
So yeah, basically the metropolitan government of Tokyo has commissioned art from big manga artists to raise awareness of the efforts of disabled athletes; which I think is pretty cool.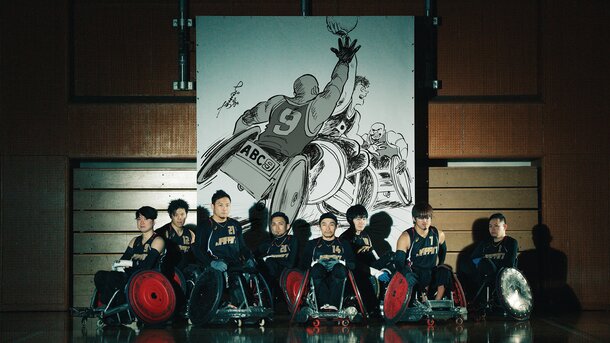 Read more about it, and see more images here
.[/block]
---
[header]meta
by @"Senpai"
[/header]
[block]
I've been a bit slack on things I've done to the site over the past three weeks, something came up irl and that's put me in a but of a downer.
I do have some nice stuff that I want to add to the community soon, some of it from code I wrote six years ago (which definitely needs some work before it gets used).
Some nice threads:
[/block]
---
[header]weekly kitsune
by @"Senpai"
[/header]
[block]