[block]
Here is the 18th issue of the Lewd News, written by
the Writers group
.
Sorry it's a little late yet again. People were busy again.
Losi was late. Very late. He is very sorry.
[/block]
---
[header]gaming
by @"suicid3Panda"
[/header]
[block]So Dead or Alive Extreme 3 has been announced. The series which has always stirred up a bit of controversy has once again stirred up controversy! The news is a week old, and most of you have heard this by now, but this is the Lewd! I write about games! I chose a lewd one!!  So this time the controversy is regarding the game
not
being released! Well, it's not planned to be released outside of Asian countries anyway. Judging form the trailers I saw, this one seems to be a great deal lewder than the previous iterations. Them PS4 physics
nicely
render those squishing mutts and bouncing boobs physics <3 not to mention that they depict the girls' tiny little bathing suits slipping off, exposing sexy tan lines... What I'm trying to say is, I pre-ordered my import copy from play-asia, and you can too! 
In any case, as of now, Tecmo Koei isn't planning to release it outside of previously mentioned areas.  When you consider how relatively poorly the game does (at least in the US) I can't say I blame them.  Why have to listen to all the SJW/Feminazi bullshit just to sell 200,000 copies of a game?  Why spend extra resources watering a game down so that its fit for release in another territory, knowing fans will complain about that too?  It's not censorship, as many people are claiming. It's choosing to avoid controversy. Censorship would be the game getting pulled form shelves, like what Australia does to any game that shows more than a pin prick of blood.  If you want to import it, you can do it here: 
play-Asia DOAX3
If you're hardcore, they even have a $350 edition!
In a #Fuckonami News Update, the Game Awards aired this past week. MGSV won an award for best action game, but Hideo Kojima was MIA and not able to accept the award. Kiefer Sutherland accepted the award on his behalf. Shortly afterward, Geoff Keighley announced that Kojima
did
want to accept the award; however, he was informed by one of Konami's lawyers that he would not be permitted to travel to accept the award. Various game developers took to Twitter, dropping any professionalism that they normally held onto, and outright told Konami to fuck themselves. It was nice to see the gloves finally come off. But Hideo knows we love him. It has to be an honor all of its own that Keifer Fucking Sutherland accepts an award
for
you!
In other, other news <3 @equinox.[/block]
---
[header]anime
by @"Nanashi"
[/header]
[block]
Flashy Flash.
To complete the previous week's news, that new Madoka movie has been announced to be the start of a new project. What this means is beyond me, but we may just get another season... for... whatever reason... since the first one ended just alright.......

Know Teekyuu? You don't? Well, it's that short anime with random type of humor and crazy ass perverted characters. It's getting a whopping seventh season in January. I just don't know why.

Nurse Witch Komugi-chan R will air starting January 10, 2016. It's an actual TV anime based on Nurse Witch Komugi OAVs, which in turn were a parody of The SoulTaker anime and the whole magical girls genre. Looks generic, but might have some promise after all...

Lastly, the best news of this week - Danganronpa 3 has been announced for release in 2016 on PS Vita and PS4. While I don't own either of them (because fuck Vita, amirite), there's yet another thing connected to the franchise coming out in that same time window - a new anime! While it's not the second game's adaptation, it will take place after the events from that, so you'd have to get some knowledge from Super Danganropna 2 prior to watching it. The story will be separate from the third game, and the protagonists will be the recurring trio - Kirigiri Kyouko, Naegi Makoto and Asahina Aoi.

Weekly recap!
How to reject somebody you love? Just be a tsundere about it. Reject the guy's confession, continue to get along with him just fine and have that growing feeling of hurt inside while he's there within a hand's reach, but so far away. That's why the whole tsundere trope is rather hard to make right - and Maji de Watashi ni Koi Shinasai (or Majikoi in short), while being some sort of parody of this trope, falls for the same traps making for a rather mediocre show in the process. At first, it's really hard to tell what this show will be about. There's a war-like fight going on between the students, explanations in the background, characters get introduced at an enormous pace and you are simply stuck watching something you don't quite understand but can easily enjoy. Then the plot gets finally introduced, love interests are revealed and you follow no longer a random battle royale brawl anime, but a rom com with a mix of action. How they went with it, however, balances on a thin line between a great parody and a poor performance, introducing a needless drama, major plotholes and burying it below a pile of ecchi shots and jokes. Overall, it's just a mediocre anime judging by today's standards, but still enjoyable to some extent.[/block]
---
[header]music
by @"Kieru"
[/header]
[block]
Issue #18: Pimp C -

Long Live The Pimp
Pimp C's new album '
Long Live The Pimp
' was released on December 4th and features many previously unheard tracks alongside friends old and new. It feels great to see names like A$AP Rocky, Devin the Dude, Nas, and Slim Thug all in the same album. These tracks are sure to go down as monumental. You can cop the album
here
on iTunes.
[/block]
---
[header]tech
by @"losi"
[/header][block]
EVGA Releases GTX 970 With Hybrid Cooling
tomshardware.com Wrote:Water cooling has been gaining a lot of traction in the enthusiast PC market over the course of the last couple years. The advent of the closed loop water cooler really changed the game, and now we're seeing the technology applied to more and more products. Less than a year ago it was only the most expensive GPUs that were equipped with liquid cooling solutions, but it appears that is no longer the case. Although not the first to offer liquid cooling on a lower-tier product than the flagship, EVGA just broke the mold with the announcement of the GeForce GTX 970 Hybrid Gaming.

EVGA's GeForce GTX 970 Hybrid is a liquid-cooled version of the company's GeForce GTX 970 SC with the blower cooler. EVGA offers a wide range of different GTX 970 cards with varying clock speeds, but curiously, it opted to use its lowest-clocked offering as the base for the liquid-cooled rendition despite clearly having the thermal headroom for much more aggressive settings. EVGA claimed the Hybrid cooler keeps the GPU 40 degrees Celsius cooler than the standard blower cooler.

Source
After reading about this card a few days ago I wonder why EVGA took so long to throw on their Hybrid cooler. The GTX 970 launched September 2014, more than a year ago. EVGA took an entire year to launch this card. This card comes in at 399$, an extra 100$ more than the 970 SC the card was based off of. I don't understand why EVGA didn't put this Hybrid cooler on one of their FTW+ cards. The 970 SC only has two 6 pins for power delivery while the FTW+ cards have custom PCBs, extra chokes for more power delivery and a 6 and 8 pin. I'd skip buying this card. If you want a kickass 970 get a FTW+ card. Those (usually) have high ASIC quality and custom PCBs.
Overwatch Add-On Characters And Maps DLC Will Be Free
gameinformer.com Wrote:Blizzard continues to surprise us with its Overwatch announcements. At Blizzcon we learned that the game isn't going to be free-to-play, defying expectations. It's also coming to both Xbox One and PlayStation 4 alongside the PC version in spring 2016.

Today, game director Jeff Kaplan shares another huge piece of information: Blizzard won't be segmenting the community with DLC. That's not to say there won't be add-ons. In fact, the team is already planning new heroes and maps. You just won't have to pay for them.

"We have ideas for additional maps and heroes that we'd like to add to the game," Kaplan says. "So we thought about this and decided the best way to add them to the game is to patch them in as free content and not as DLC. Hopefully that alleviates some concern that people's have."

He suggests that there are already hints about unrevealed heroes beyond the 21 coming at launch. As for how many additional characters and when how soon after launch they'll arrive? That's not confirmed yet.
Source
Blizzard announced that the DLC characters and maps will be free with their game. I think this will be great because this means that the fans won't be split between DLC owners and the people with the base game. I've had this happen so many times with games I've played. Black Ops 2, Battlefield 3, Battlefield 4 and more. Even though this game just seems like a ripoff of TF2 ported to next gen, I think Blizzard made a smart choice. I still think Blizzard will have a paid cosmetics like TF2 or Dota, but that's simply cosmetics. Having a cool hat or glasses won't affect gameplay. Players that grind much more than others will have an advantage, having money shouldn't affect this.
Asetek Demands AMD, Gigabyte to Stop Selling Fury X + Waterforce Cards
pcworld.com Wrote:Liquid cooling system maker Asetek just threatened to make one of the hottest graphics cards of 2015 even hotter—by taking away its cooling system.

Asetek recently sent a cease and desist letter to AMD over the Radeon R9 Fury X, claiming the graphics card infringes on Asetek patents, according to GamersNexus. AMD had not yet responded to PCWorld's request for comment at this writing.

The legal demand comes after Asetek won a patent infringement case against Cooler Master in late 2014 over CM's Seidon lineup of liquid coolers. AMD's flagship Fury X features a liquid cooling system built in conjunction with Cooler Master.

In addition to its letters to AMD, Asetek is also going after Gigabyte and its GeForce GTX 980 WaterForce card, GamersNexus reports. Asetek may also go after Gigabyte's GTX 980 Ti WaterForce card, but first the liquid cooler maker needs to obtain one for analysis.
Source
Asetek has gone to court about AMD and Gigabyte copying their AIO designs without their permission. They even went the extra yard and said Gigabyte's Windforce cards are patent infringements. Gigabyte made the triple 980 package an entire year ago and now Asetek has said their product infringes on their patents. I personally side with AMD and Gigabyte simply because big companies like them would have no need to "copy" Asetek's designs. They easily have enough money to make their own original coolers. I also find it funny that Asetek went after AMD rather than Coolermaster that made the pump and radiator for the Fury X cards. It seems like Asetek just wants money.
Skylake CPUs are bending under the pressure of some coolers
pcgamer.com Wrote:

Some Intel Skylake CPUs are literally bending under the weight of heavy aftermarket CPU coolers. Or, more specifically, the pressure exerted by some coolers seems to be causing damage to Skylake chips. The likely culprit: Intel used a thinner wafer on Skylake CPUs than past chips. According to Intel, the thinner substrate is still rated for the same 50 pound static load, but this issue is definitely real: we've experienced it ourselves. Recently, while moving a Skylake i7-6700K between two systems, our colleagues at Maximum PC experienced this exact bending issue. The damage was caused by installing either an EK-XLC Predator 240, Deep Cool _ or Corsair H90 liquid cooler. We thought too much force had been applied to the chip by installing one of those coolers with an electric screwdriver. It's still possible that the screwdriver applied a damaging amount of force and the damage was user error, but we've never experienced a similar issue on older Intel CPUs with thicker wafers.
Source
Intel's new mainstream cpu, the 6700k and 6600k, has had problems with bending under pressure by cpu coolers. Intel has said that their previous cpus have never had problems, which is true. But look at the image I put at the bottom. The silicon wafer that the die is housed on is actually thinner than previous gen Haswell cpus. If you have an AIO cooler like a Corsair h100i then you're fine. The people with bent cpus said their cpu coolers have been heavy air coolers. Pumps have no problem with Skylake cpus. Intel recommends if you have Skylake cpus and an air cooler to not the pc a bunch to jostle the cooler. This might bend the cpu.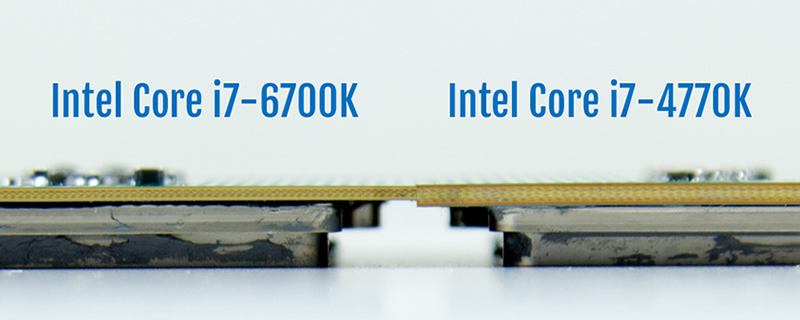 [/block]
---
[header]meta
by @"Senpai"
[/header]
[block]Nana stepped down.
The flat theme is getting close to being useable.
Some nice threads:
[/block]
---
[header]weekly kitsune
by @"Riesu"
[/header]
[block]