[block]
Here is the 14th issue of the Lewd News, written by
the Writers group
.
Sorry it's a little late again. People were busy again.
[/block]
---
[header]anime
by @"Nanashi"
[/header]
[block]
Do you hate it when there's no interesting news to write about? I, for one, do. Thanks to that, this week's news will be held in a 'flash' form. Not too long so it doesn't bore you to death, yet informative as always.
- Ouya-san wa Shishunki manga gets an anime adaptation this January. The source is a yon-koma manga, so don't expect grand things from it... but then again, we may actually see some creativity!
- The second season of Terraformers will come in April 2016. Really. If they keep up the censorship from the first season, I don't see it ending well...
- For some reason I missed this anime entirely. Dance with Devils. The torment of Diabolik Lovers' creator on us that seemingly will never end. It gets an English dub, tomorrow.
- Know Ajin: Demi-Human? I personally didn't read it, but I've heard it's good. So yeah, the eight volume of the manga will come with an Original Anime DVD. I wonder, how will they settle with the censorship...
[/block]
---
[header]gaming
by @"suicid3Panda"
[/header]
[block]Hello to my six lovely fans who read my news article each week <3 OMEGA LABYRINTH releases in Japan next week for the PS Vita.  Thanks to the fact that we live in the age of the internet, and through the powers of no region-lock on the mighty PS Vita, you have the ability to play it too! This is a good thing considering a dungeon crawler that has its primary focus on breast expansion and allows you to manually fondle the girls' boobs during cutscenes doesn't typically see a release outside of Japan.  Now all you have to do is become fluent in Japanese.  When you're ready, Play-Asia has the hook-up.
You may not have heard the news, but Black Ops 3 was released this past week! What? You say it was one of this year's most anticipated releases, and news of release is basically common knowledge at this point? Whatever! Well did you know it has female soldiers in it? That's right! Finally, you can play as a cutie female soldier as you murder countless other men and women soldiers (who are definitely evil for not sharing your character's ideals and beliefs.) You asked for more playable female characters, Treyarch has delivered, and you know what else? People are
pissed
about it! No, not the SJWs who begged for the change, and not the Gamergaters who hate everything, but some shitty newspaper in Europe. They say that Treyarch is "targeting females" in attempt to turn them into savage, cold-hearted killers. Well, that's all for this week. I'm going to go kill myself now.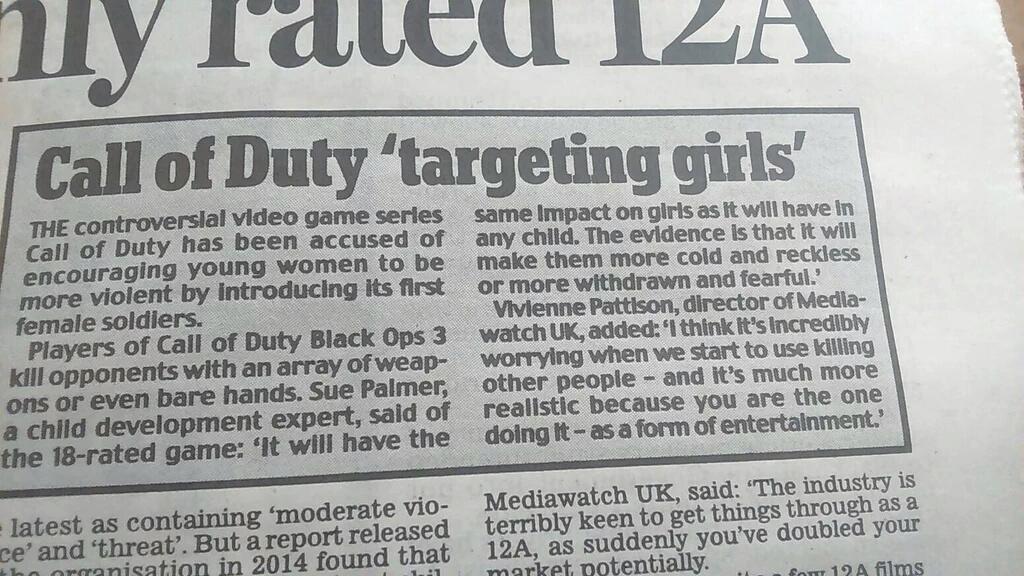 [/block]
---
[header]music
by @"Kieru"
[/header]
[block]
Issue #14: 4flexx - Semblance
About a month ago, UK based producer 4flexx released his 'Semblance' album, which comes with 4 tracks and 3 skits. For a drum and bass album, you might find this pretty familiar to some of the newer Noisia tracks or something you might find from Teknian. All in all, this album is a true accomplishment for the young producer, who has very boldly shaped his sound in such a short amount of time. I've been checking in on his tracks for the past few years now, and this means I'll definately keep an eye on him.
---
[header]tech
by @"losi"
[/header]
[block]
R9 Fury X2 dual-GPU
wccftech.com Wrote:The R9 Fury X2 will be the fourth and last Fiji based graphics card from AMD this year. The card will feature two full fledged Fiji XT GPUs with 4GB of stacked High Bandwidth Memory each, for a total of 8GB of memory and a combined memory bandwidth of one Terabytes per second. The actual board design is pretty much finalized at this point. AMD engineers are purportedly hard at work optimizing for clock speeds, power and CrossfireX scaling.
They have their work cut out for them for sure as we're told AMD is gunning for the crown of the world's fastest graphics card. Which shouldn't really come as a surprise, looking back at AMD's previous dual GPU graphics card launches including the R9 295X2, HD 7990, HD 6990 and all the way back to the HD 3870×2 the goal with every one of these launches had always been to claim the title for the world's fastest graphics card.
Source.
AMD has announced the R9 Fury X2 dual-GPU. I'm quite excited in how this card will perform, considering how kick ass the Fury X performs. It's got 8GB Of HBM, 1TB/s Of Memory Bandwidth And 17+ Teraflops of Compute power. Holy crap! I'd personally wait for this card to get a waterblock fabricated for it. This card will run HOT. I'd think this card would be pumping out heat, so grab an EK waterblock when it comes out and you're good.
Google engineer takes on subpar USB Type-C cables
engadget.com Wrote:Trying to save a few bucks by purchasing off brand cables? We've all done it -- but there's something you should know about new USB Type-C connectors popping up on cellphones (Nexus, OnePlus), laptops (Macbook, Pixel), tablets (Pixel C) and even Apple TV. The reason why they can charge so many devices, is their ability to transmit currents up to 3A, which could be 50 to 100 percent more electricity than older standards. That's why Google engineer Benson Leung has been putting various USB-C cables sold on Amazon to the test. He worked on both of Google's recent Pixel devices that use the new cable to charge, and found that many of the cables advertised as Type-C aren't actually suited for use with the laptop. They might not be wired properly to charge a laptop, or they don't accurately identify the power source -- something that could damage your laptop, USB hub or charger.
Source.
So apparently an engineer from Google is now reviewing USB type C cables since there's some Chinese knock-offs that actually under perform. The engineer explained, "every new plug, connector and cable now has to be certified to be 3A compatible." The tests he puts them through test their current capacity and their data transfer rate as well as build quality. I had no idea that knock-off USB C cables were actually slower than First-Party cables.
EVGA releases Fallout 4 Version GTX 970 w/backplate
bestbuy.com Wrote:Powered by the NVIDIA GeForce GTX 970 graphics processing unit (GPU)
With a 1190MHz clock speed and 1342MHz boost clock speed to help meet the needs of your favorite games for up to 4 displays.
4GB GDDR5 on-board memory
Supplies ample memory to create realistic images.
PCI Express 3.0 x16 interface
Offers compatibility with a range of systems. Also includes DVI-I, DisplayPort and HDMI outputs for expanded connectivity.
NVIDIA PhysX technology
Enhances gaming physics to help create lifelike interaction between characters and environments for a realistic gaming experience.
NVIDIA 3D Vision-ready
Supports lifelike stereoscopic 3D graphics (requires wireless 3D glasses and compatible 3D display, not included).
NVIDIA SLI-ready
Transmits synchronization, display and pixel data for reliable connection between GPUs (additional graphics cards not included).
NVIDIA CUDA technology
Harnesses the power of the graphics processing unit (GPU) to optimize computing performance.
Source.
Basically it's a GTX 970 SSC with a kick ass Fallout 4 backplate. For some reason this branded 970 doesn't even come with a copy of the game! The price is roughly $380 and the game isn't included. WTF are you doing Bethesda and EVGA. So the extra $80-90 spent is just for the marketing and for the kick ass backplate. Is it worth it? Leave your answer in the comments.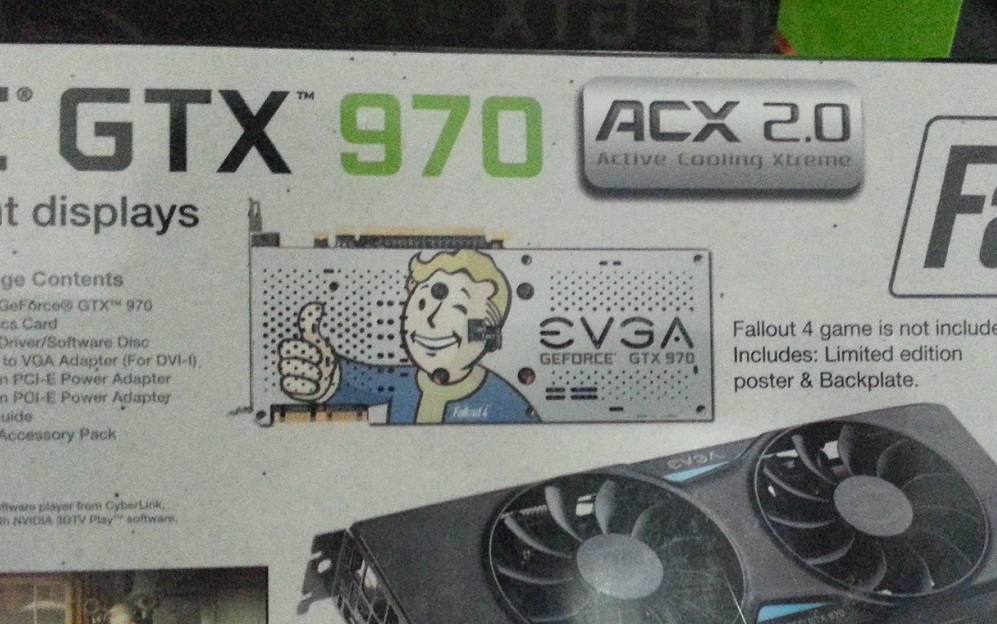 Image from reddit /u/forseenbaron
AMD's Radeon R9 380X priced at $249
wccftech.com Wrote:The Radeon R9 380X features a 256 bit memory bus and has been spotted countless times in the past – not only on AMD AIB websites but through leaks as well. It is quite possibly the least mysterious card that has been released by AMD. The last time we heard about it, we mentioned that it will be a while before the card appears in the consumer market – and it looks like that is going to happen on the 19th of November, which is when it should become available.
The card features a 256 bit memory bus and 4GB of GDDR5 memory as well as the GCN 1.2 architecture. The Antigua core is actually the revised Tonga core – full blown I might add and is technically the XT variant. While the Tonga XT variant is present in embedded solutions and the mobility side of things – it had yet to make its way over to the desktop side of things – so this is definitely not a rebrad, but rather a new launch.
Source.
The R9 380X makes it onto another week of Tech News yet again. A price is announced, $249. The specs of the 380X is nothing too special. I still have no idea who this card is intended for. The R9 390 is priced at roughly $300. The 380X is $50 cheaper. But the difference between the cards is a ton. The 390 has double the amount of VRAM, higher B-clock, bigger memory bus, all for an extra $50. But hey, I can't judge. If you want to buy this card, I'd nudge you towards the 390. But 380X is there for a reason, I guess. For the people who can't decide to get a 380 or 390.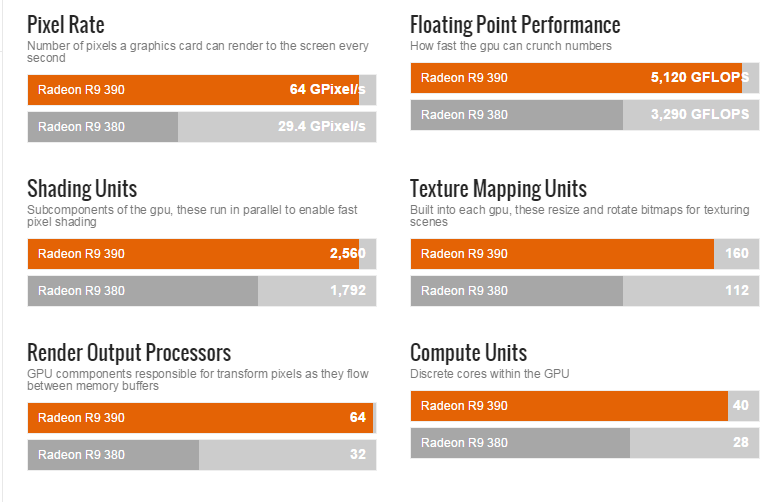 [/block]
---
[header]meta
by @"Senpai"
[/header]
[block]We reached 26,000 posts.
Weeaboo Forums has merged into us, be sure to welcome the new members
here
.
We're no longer using Sucuri and have instead opted for a frontend chain provided by MoxSecurity (aka @"Network"). You can check which one of MoxSecurity's servers you are connecting from
here
.
I have put the "new theme" aside completely to work on some mad scientist tier plans for Lewd's future. (I'll write a thread explaining my plans when it's not 2am and I'm not tired af.)
Some nice threads:
[/block]
---
[header]weekly kitsune
by @"Senpai"
[/header]
[block]
[/block]